Oxygen Elements Max - New label - same product!
Please note, it has recently been brought to our attention that Oxygen Elements Max contains a very small quantity of non vegetarian ingredients (gelatine) - around 0.15% of the total. For this reason we have delisted it as a vegan & vegetarian product until such time as the gelatine is removed. The animal derived ingredient is certified Kosher.
What is the difference between Oxygen Elements Plus and Oxygen Elements Max?
Oxygen Elements Plus was the original product name. Oxygen Elements Max is the 'improved' product containing fulvic acid and more concentrated trace minerals. These additions are beneficial, however it has one drawback compared with the " Plus" formula, which is that the updated product requires a small amount of the preservatives potassium sorbate and potassium benzoate (see full ingredients below) to maintain its freshness. As Oxygen Elements Plus is no long available, if you want to purchase a similar product which does not contain a preservative we recommend Oxylift instead.
Since we began providing Oxygen Elements Max, and before that Oxygen Elements Plus, we have received countless reports from customers telling us how it has helped their energy levels, chronic fatigue, respiratory problems, sinus infections, fibromyalgia, candida / yeast infections, joint pains, hair loss and many other problems. It should be noted that these results are 'anecdotal' and individual results have always varied, but clearly a lot of customers like the product.
Helps reduce the signs of aging
May assist management of unhealthy bacteria and viruses
May assist management of candida and fungal overgrowth
May help stimulate the immune system
May help prevent serious illnesses
Respiratory / breathing problems
Hayfever
Chronic fatigue
Joint pain (arthritis)
Skin conditions
Candida yeast infections
* Please note, individual results vary. Product is not a substitute for medical diagnosis, advice and treatment. Do not discontinue or change any medication you are currently taking without medical advice.
"In all serious disease states we find a concomitant low oxygen state…low oxygen in the body tissues is a sure indicator for disease...Hypoxia, or lack of oxygen in the tissues, is the fundamental cause for all degenerative disease."
Dr.Stephen Levine
Renowned Molecular Biologist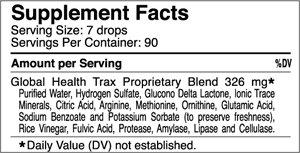 Adults & Over age 12 : 7 drops 3 x per day in a little water or juice
Children under age 10 : 4 drops 3 x per day in a little water or juice
Children under age 5 : 2 drops 3 x per day in a little water or juice
Build up to around 3 x the dosages above over the period of one month.
Note: If dosage above gives you a detox reaction (i.e. makes you feel under the weather), reduce dosage until the full dosage is tolerated.
One month on the full adult dosage
Always dilute in water or juice.
Avoid contact with eyes
Vitamin C is a wonderful nutrient which we beleive is beneficial for pretty much 100% of people, but should not be consumed within two hours of taking an oxygen product. No harm will occur if you do, but some practitioners contend that they may cancel each other out.