Please note, Threelac is now also available in Capsules
Also note, children can safely take Threelac, but we also provide Kidslac for children.
We provide Threelac with this 60-day money back offer on your first order.
Threelac & Digestive Stress
Candida yeast problems, digestive problems, fatigue, and the myriad of other health problems that have become associated with a less than perfect balance of bacteria in the gut seems to have become a subject on everyones lips over the last decade or so. Many live bacteria products are on the market (we provide a range of over 50 friendly bacteria products). Whilst it is true that individual results vary, and equally true that different probiotic products work for different individuals, Threelac (and it's sister product Fivelac) are our best selling probiotics. Based on the overall feedback which we get from customers, this is with good reason. We probably get more consistent feedback from customers who feel Threelac and Fivelac have helped them than any live bacteria product we sell.
How we started selling Threelac
We were the first to introduce this remarkable probiotic product into the UK as soon as it was launched. At the time we were already the primary distributor for Oxygen Elements Max, made by the same company, in the UK. Originally the clinic Director, Mark Lester brought small amount of Threelac to try out on a few patients, then after seeing the superb results, offered it to the wider public through the company web site. We are unlike the e-commerce companies selling Threelac, in so far as this health and nutrition web site started life as part of a therapy and treatment centre - The Finchley Clinic run by Mark Lester since 1994.
Questions?
Please feel free to click on the contact us link with any questions you have, but before you do, bear in mind that 95% of the questions we are asked are answered on this page or in the FAQ's. We do respectfully suggest that you read these pages before contacting us - as the answer to your question is very likely there.
However there is one question, which we would like to get out of the way here and now....
I read that Threelac and Fivelac don't work, and are a scam. Can you comment?
We are a highly ethical, well established company selling around 1000 products. We have no need to sell "scam" products, and frankly do not have the time. Overall, we get fantastic feedbck from our customers. It is true that neither Threelac nor its sister product Fivelac work for all of the people all of the time. In fact we very much doubt whether there exists any product that works 100% of the time. We welcome anyone who is not improving or having a problem to contact us to discuss their situation (and read this page and the FAQ's).
Unfortunately one or two people who have not responded successfully to Threelac or Fivelac have declared that it therefore follows that Threelac and Fivelac are some kind of a scam, and have managed to get internet listings stating this in quite high positions on some search engines. Some of these postings also contain information which is so scandalously inaccurate and defamatory that we can't help wondering whether the source is actually jealous competitors rather than any genuine customer. Either way, Threelac and Fivelac are not "scams", and based on what we are being told, appear to be helping countless people.
One particularly outrageous web site, states that Threelac "gives people totally false hope".
This is a disgraceful lie, and we greatly resent this insult to our integrity. We challenge the web site owner, who holds herself out to be a self appointed expert, to provide evidence that we are offering anyone "false hope" based on actual clinical experience using this product regularly in her practise. The Finchley Clinic is owned by a practitioner whose family has been involved with natural medicine since the mid 1950's, who has no intention of offering anyone "false hope".
The same web page states something else, which is even sillier! Namely "Any probiotics taken by mouth couldn't reach the large intestines where they are "supposedly" needed, since probiotics can only be implanted in the large intestines with an enema.". To be frank, we have never heard such utter rubbish. Of course probiotics can reach the large intestine - that or the authors of thousands of peer reviewed research articles in more or less every medical journal in the world for the last 30 years or so are all liars or terrible scientists. We will let you make up your own minds on this one.
We think it is unethical of this individual to put people off from the possibility of retrieving their health just because she wants to sell her own products.
Just to put any further reservations to rest, we provide this 60-day money back offer for anyone who is dissatisfied with Threelac and any other products we provide from Global Health Trax. If Threelac was a scam, why would we make an offer like this?
Remember the other FAQ's (frequently asked questions) are found here.
ThreeLac's Active Ingredients
Bacillus coagulans: A probiotic organism that may help control occasional digestion and stomach problems.
Bacillus subtilis: A probiotic organism that may help crowd out "bad" flora in the intestines.
Enterococcus faecalis: The Enterococci constitute a major genus within the lactic acid bacteria group, and exists naturally in the human digestive tract. This effective probiotic bacteria is the result of formulation under strict laboratory conditions.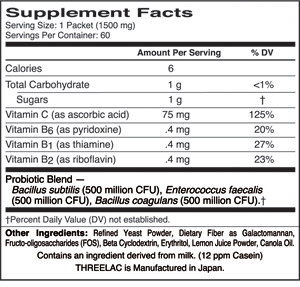 A Comprehensive Programme:
Threelac works as a stand alone product for many people. But because we do not believe it is a miracle cure for all the people, all of the time, we always encourage customers to view all the natural health supplements in the Candida balancing section of the online shop. We regard the following as the most valuable of them: -
* Threelac is a powerful candida management product, which sometimes precipitates 'die-off' reactions in sensitive individuals. Die-off is the term used to define the unpleasant though short term flu like symptoms which occur with a small percentage of people at the start of a candida cleanse. It tends to occur mostly in people who are sensitive to products generally, or those who have more severe candida overgrowth. This can usually be prevented by combining Threelac with Wild Endive Formula or Wild Endive Formula A. In a very small number of cases, Threelac is still too strong, in which case we recommend Wild Endive Formula or Wild Endive Formula A to be used by itself for 1-2 months before trying it again.
Suggested money saving combinations:
Further information on Threelac
Further reading
* Threelac comes in a box which some people find annoying as it's too large to go through the letter box. If you want us to remove the box and put the sachets in a jiffy bag, please write that in the comments box during the checkout process. This is not recommended if its your first order as there are some guidelines written on the box.
This probiotic product does not require refrigeration.