Candida Test
This test is not medically recognised, but we find it seems to work in so far as we receive 'anecdotal' reports on a daily basis from people who failed the test, used some of our products for a few weeks or months (depending on severity), felt better, did the test again, and the result showed an improvement. But you will have to make up your own mind whether you believe in it or not.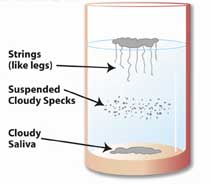 Try this simple test to see if you have candida: First thing in the morning, before you put ANYTHING in your mouth, get a clear glass. Fill with water and work up a bit of saliva, then spit it into the glass of water. Check the water every 15 minutes or so for up to one hour.
If you have a problem that ThreeLac, FiveLac and our other anti candida products may help, you will see strings (like legs) traveling down into the water from the saliva floating on the top, or "cloudy" saliva will sink to the bottom of the glass, or cloudy specks will seem to be suspended in the water. If there are no strings and the saliva is still floating after at least one hour, you probably have candida under control. ThreeLac and FiveLac would then be used to maintain good bowel flora and proper pH.
If you would like to do a more scientific type of test click here
Other Products to Consider Based on Your Results
Legal Note: Please discuss any health problem you have with your doctor. The Finchley Clinic does not diagnose or treat disease.