View All Products containing Iodine
Detoxadine® is a high-quality nascent iodine daily supplement made ​​from dietary transformative iodine in a bio-nanocolloidal elemental state. Detoxadine® is gentle on your stomach and will not sting or burn when used externally.
Supports thyroid health
Helps balance iodine levels
Stop Press.
In May 2014, the Detoxadine® formulation was improved upon and the iodine content increased by 45%. The result is a more deep, red color, and a stronger taste that may produce a tingling sensation. If you find the taste to be too strong you Detoxadine® may consider mixing in water or juice.
What is Detoxadine®?
Detoxadine® is Global Healing Center's brand of standardized nano-colloidal nascent iodine. It is manufactured with a unique transformative elemental bio-matrix using a revolutionary process to make it more gentle on your digestive system than other iodine supplements. Iodine in plays a role in metabolic (thyroid), cardiovascular, liver, bone and CNS health. Iodine is the mineral basis of the HPT (Hypothalamus-Pituitary-Thyroid) Axis. Many believe the HPT Axis is also the underlying basis of the HPA (Hypothalamus-Pituitary-Adrenal) Axis. Healthy thyroid and endocrine function are absolutely necessary for the body to perform at the peak of health.
Detoxadine® Production Process
Dr. Edward F. Group III, DC, ND
Detoxadine® is manufactured in a state-licensed facility which meets American regulatory standards that, is cGMP / HACCP-compliant, and lab grade. Raw elemental iodine is a controlled substance and the licensing, regulatory approvals and documentary procedures are exacting and costly. Bound forms of iodine must first be separated, clarified and purified from other components or impurities into binding USP-grade (US Pharmaceutical), mono-elemental iodine USP certified resublimated iodine crystals. In this purified crystal form, iodine is a highly reactive and toxic substance. However, when the purified USP iodine crystals are subjected to a proprietary process it becomes nano-colloidalized and transforms into a non-toxic form of nascent elemental iodine. It is also known as monoatomic iodine, without the addition of iodides.
Detoxadine vs other Nascent Iodine products.
The suppliers state that the production process of Detoxadine® has a stabilizing effect on the elemental iodine, making it far more bioavailable than other nascent iodine products, which can exhibit toxic effects (eg cytotoxicity). As we are not scientists, we cannot verify this claim ourselves, but we would state that we find GHC an honest and sincere company to deal with, who don't tend to just make things up as they go along.
The Top 5 Reasons You Need Nascent Iodine
Iodine is an essential mineral that supports thyroid health, the immune system, the central nervous system, and metabolic well-being.
The body is able to absorb and use nascent iodine easier and better than other forms of iodine.
Nascent iodine supports healthy iodine levels.
Nascent iodine supports healthy hormone levels.
Nascent iodine contributes to maintaining healthy blood sugar.
Ingredients:
Other Ingredients:
USP-Grade certified Kosher vegetable glycerin
Purified water (pH balanced)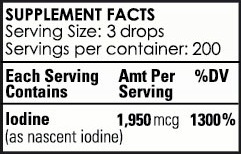 What does the term "nascent" iodine mean?
The defining characteristic of nascent iodine is that it is an atomic form of iodine with an incomplete number of electrons, which gives it a high electromagnetic charge. It is also why nascent iodine is sometimes referred to as atomic iodine, monatomic iodine, colloidal iodine or atomidine. Each of these names reflects the uniqueness of this iodine form. Nascent iodine eliminates the need to isolate iodine from its compound state. A solution of nascent iodine contains isolated iodine atoms. In this state, they are inactive and neither toxic nor damaging. The body can quickly absorb and use this form of iodine which makes it the best form of iodine for both internal and external use.
Detoxadine vs other Nascent Iodine products.
The suppliers state that the production process of Detoxadine has a stabilizing effect on the elemental iodine, making it far more bioavailable than other nascent iodine products, which can exhibit toxic effects. When comparing other similar products to Detoxadine it is important to point out that it is derived from a deep earth source (salt deposits) which creates an extremely pure nascent iodine free of modern day contaminants and radiation. Most competitor products are either sourced from sea weed and other sea vegetables. Many of these products are also alcohol based which is toxic to the body as opposed to vegetable glycerin. Vegetable glycerin is an extremely effective medium to hold iodine. One of the primary benefits of vegetable glycerin based nascent iodine is that it takes advantage of iodine's ability to hold an electromagnetic charge. So in a nutshell, nascent iodine is the form of iodine most easily used and absorbed by the human body, and vegetable glycerin is the medium that encourages the most absorption.
As we are not scientists, we cannot verify the above paragraphs ourselves, but we would state that we find GHC an honest and sincere company to deal with, who don't tend to just make things up as they go along.
Why is Detoxadine better than potassium iodide?
The nascent iodine in Detoxadine is pure and much easier for your body to absorb and use. In nature, iodine is attached to other elements as a compound, it doesn't exist pure. In these forms, absorption can be as low as 20%, making it biologically inefficient. Detoxadine is different because it provides a bioavailable, non-toxic nascent iodine that rapidly enters your bloodstream and disperses throughout your body.
How does nascent iodine affect my thyroid?
The thyroid converts iodine back to mono-elemental iodine and immediately recombines it as an essential mineral element with protein configurations to form the thyroid hormones T3 and T4. Simply put, nascent iodine supports the thyroid and hormone function!
How is Detoxadine produced?
Historically, nascent iodine has been made using electricity to break iodine's diatomic bond and create a single, highly energized atom. However, it is difficult to use this method on the scale necessary to produce sufficient quantities. It also does not leverage the latest technological advances. Global Healing Center has developed proprietary technology to create nascent iodine by using Thermodynamic Pressure Sensitive High Energy Sound Pulse Nano-Emulsion Technology. This technology is the result of years of research and collaboration between top Russian Physicists, the Global Healing Center production staff, and Dr. Edward Group. The end result is a highly-charged, bio-available, stable form of nascent iodine.
What is the source of the iodine?
Global Healing Center is the only company that doesn't source iodine from the sea. Our USA-based production facility derives the iodine from a salt solution that is extracted from a geologic formation approximately 6,000-7,000 feet below the surface of the earth. This salt solution is 300 million years old and contains high concentrations of "iodide" that is extracted. The iodide solution undergoes a series of purification steps to convert it to iodine and separate the non-volatiles and other halogens.
I don't have a thyroid gland, do I still need iodine?
If you do not have a thyroid, then iodine is not necessary to create thyroid hormones. However, that doesn't mean the rest of your body doesn't need iodine - it does. Iodine is necessary for breast and prostate health (the second largest iodine storage sites after the thyroid). It is also used by the adrenal glands, parotid glands, mucosal lining of the intestines, uterus, ovaries and more. It is a necessary nutrient for maintaining healthy cell life cycles. The P53 gene requires iodine to function. P53 has been called "The Guardian of the Genetic Code" and is responsible for the apoptosis process of damaged cells. Thyroid or not, there is no question that iodine is required by the human body to function properly.
Should people with Hashimoto's Thyroiditis or Graves disease take Detoxadine?
People with Hashimoto's Thyroiditis or Graves should consult their physician before taking any nutritional supplements.
Should I discontinue any prescriptions once I start taking Detoxadine?
No, you should not discontinue any medication without consulting your prescribing healthcare professional. It is also recommended you separate medications at least 4 hours from Detoxadine administration.
Suggested Use
Take 3 drops by mouth once daily or as directed by your healthcare provider.
Warnings
Keep out of reach of children.
Consult your healthcare provider if you are taking before pregnant or nursing.
Individuals with thyroid and / or cardiovascular problems or are on any medications should consult a physician before Detoxadine® using transformative nano-colloidal iodine matrix.
Side effects and / or contraindications, if any, would be the same as any other supplemental listed for use and / or topical use based iodine matrix preparation.
Suggested Products to Combine With Detoxadine
Kelp Formula
Thyroid Support Formula
Maca (supports general hormonal system)