Golden Seal Formula F and the very similar Golden Seal Formula E are powerful botanical anti candida, thrush and yeast infection remedies. For systemic candida treatment, we beleive they are actually more aggressive than Threelac and Fivelac. For this reason, in severe cases it is not advisable to be used without using the other products below) for up to 2 months beforehand. It is now being manufactured for by its originator for The Finchley Clinic to accompany the other main anti candida products we carry, such as Threelac, Oxygen Elements Plus, Bayberry Formula, Active Digestive Enzymes (if digestive problems are also present) and Colostrum Plus
Note: When taking Golden Seal Formula it is important to take a high quality probiotic such as Threelac, to replenish the gut with helpful bacteria at the same time. The probiotic should ideally be taken at least an hour away from Golden Seal Formula.
This product should also be accompanied by Bayberry Formula in severe cases.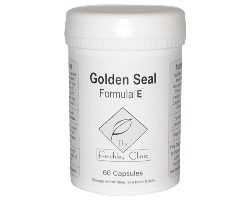 Golden Seal Formula properties
Golden Seal Formula is the most effective natural supplement for the treatment of candida we know of. It brings Candida under control in 2-3 months, and usually eliminates it within six months.
Golden Seal Formula has been designed to penetrate all organs including those difficult to access, e.g. colon, brain, vagina, and bone.
Golden Seal Formula contains several different anticandidal herbs and therefore possesses a broader spectrum of activity than a single agent against the many different candida strains encountered clinically. For the same reason, resistance to Golden Seal Formula is less likely to develop. By using a combination of herbs, the ingredients work synergistically. In other words the whole is greater than the sum of the parts.
Golden Seal Formula provides an array at beneficial effects in addition to its anticandidal activity that are relevant to the control of candidiasis in the following respects:-

Golden Seal Formula supports the immune system. If Candida is merely killed by an antifungal agent and the immune system left unsupported, the chances of recurrence are high.
Golden Seal Formula supports the liver, which is usually stressed by Candida and its toxins. Improving liver function helps combat Candida overgrowth since the liver is part of the immune system, and since bile is inhibitory to intestinal Candida. The liver is also the main eliminatory organ for Candida toxins, which cause many of the symptoms associated with candidiasis.
Golden Seal Formula enhances secretions from all digestive organs. Such secretions inhibit intestinal Candida and diminish gas production, a frequent problem in candidiasis.
Golden Seal Formula supports the adrenal glands. There is a reciprocal relationship between the adrenal glands and Candida: hypofunction of the adrenal glands permits Candida overgrowth, and Candida damages the adrenal glands by free-radical and autoimmune mechanisms.
Golden Seal Formula helps treat intestinal bacterial dysbiosis. Dysbiosis is responsible for allowing Candida to overgrow in the first place, and additionally, contributes to the intestinal disturbance (gas, bloating, and discomfort) and systemic toxicity associated with candidiasis.
Golden Seal Formula helps heal the leaky gut induced by Candida (along with Marshmallow Formula and Colostrum Plus). A leaky gut encourages the development of food allergies and facilitates the absorption of toxins from the bowel.
Golden Seal Formula is strongly anti-protozoal. Infestation with intestinal protozoan parasites such as Giardia and Blastocystis often accompanies candidiasis. Such a parasitosis may cause some of the symptoms attributed to Candida (gas, bloating, constipation, diarrhea, leaky gut, dizziness, fatigue), and may also give rise to immunosuppression.
Golden Seal Formula possesses useful anti-nematode activity. Nematode (worm) infestation sometimes accompanies candidiasis and may be responsible for some of the symptoms attributed to Candida (abdominal discomfort gas, ileo-caecal valve dysfunction, leaky gut, fatigue), and may also give rise to immunosuppression.
Golden Seal Formula may help reduce the hypoglycaemia that often results from candidiasis. Much of the malaise and discomfort experienced by Candida victims originates from hypoglycaemia.
Golden Seal Formula E
Golden Seal Formula E is an alternative botanical blend to Golden Seal Formula F more appropriate for people with sensitive gastro intestinal systems, gastritis, Colitis or Crohn's disease. The only difference is that the Cayenne (Chilli pepper) in the Golden Seal Formula has been replaced with Yellow Dock in Golden Seal Formula E. As Cayenne can sometimes antidote homeopathic remedies, Golden Seal Formula E is the preferable product for people taking homeopathic remedies. Golden Seal Formula E is a slightly gentler remedy than Golden Seal Formula, but is still a powerful anti candida natural health supplement.
Caution: Botanical anti-fungals are not suitable for use in pregnancy, or if pregnancy is being planned. Threelac and Bio-Kult are suitable however as they are not botanical . Also, people with colitis, gastritis or ulcerative conditions of the stomach or colon should not use Golden Seal Formula F. People with these conditions should use Golden Seal Formula E instead.
Ingredients:
Golden seal Formula F: thyme, licorice, lapacho, marigold, cayenne, turmeric, golden seal
Golden seal Formula E: thyme, licorice, lapacho, marigold, yellow dock, turmeric, golden seal