Magnesium is a vital mineral associated with countless physiological processes in the body - and is responsible for over 300 enzyme reactions needed for the body´s energy production. Although associated with combating fatigue, muscle spasm and so on, we believe that virtually all candida sufferers are deficient in magnesium (see our article Conquering Candida for further information). Magnesium is involved with nerve transmission, and nervous / anxious types often benefit from magnesium supplementation. Its is also associated with antidoting aluminum toxicity by competing with aluminum for absorption. Magnesium is also vital for the immune system (another reason why it may be beneficial for candida sufferers), and the prevention of osteoporosis.
Absorbtion of Magnesium
Unfortuntely we are unable to locate an academic source for the table below, provided by one of our suppliers. Although we are not able to verify it's authenticity, it does more or less coincide with the products typically recommended by nutritionists, as opposed to the worthless crap sold by the type of companies that just flog any old cheap tat they can get their hands on. However assuming it's accurate, and we think it probably is, the most absorbable forms of magnesium are Magnesium citrate, ascorbate, EAP2, and Malate, all of which we can provide here. Magnesium citrate is the best seller for us, probably because of the competitive price point, and we get good feedback on it.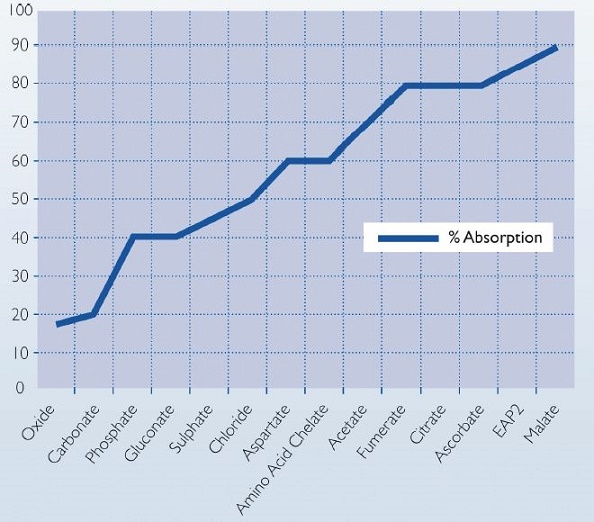 Directions
One or two capsules twice daily with food

Suitable for vegans & vegetarians
Keep cool & dry, out of reach of children
Do not purchase if seal is broken
Do not use as a substitute for a varied diet. Do not exceed the stated intake.
Ingredients
Magnesium citrate providing 100 mg elemental magnesium per capsule (27% of EC Reference Intake).
Vegetarian capsule shell (cellulose derivative & water)
Well-established, organic magnesium
Totally additive-free
Please note: "citrates" having nothing to do with citrus fruits! People who are allergic to citrus should NOT expect to be allergic to magnesium citrate.
A note about magnesium oxide
Magnesium oxide is the cheapest form of magnesium sold in some health food shops. This is the 'base' ingredient for the creation of our oxygen based colon cleansing products - Oxy-Powder, Colosan and Mag 07 However it is not a dietary form of magnesium. If you have purchased magnesium oxide, to increase your magnesium levels, you might as well throw it away as it will be almost useless as a nutritional supplement.