Magnesium Powder is a complex of magnesium citrate and magnesium malate, suitable for everyday use. It is presented in a pleasant tasting, easily absorbed powder formula, offering flexibility and convenience
To view the product label and allergen information click here
Magnesium contributes to a number of important functions including normal muscle function and maintenance of normal bones and teeth as well as contributing to normal energy metabolism.
Magnesium contributes to normal energy metabolism and the reduction of tiredness and fatigue
Magnesium contributes to electrolyte balance
Magnesium contributes to normal functioning of the nervous system
Magnesium contributes to normal muscle function
Magnesium contributes to normal protein synthesis
Magnesium contributes to normal psychological function
Magnesium contributes to the maintenance of normal bones and teeth
Magnesium has a role in the process of cell division
Magnesium Malate may be particularly useful for sportspeople or those who undertake extensive exercise
| Ingredient | Amount | Providing | % EC NRV |
| --- | --- | --- | --- |
| Magnesium | 720µg | | 53.3 |
Unfortuntely we are unable to locate an academic source for the table below, originally provided to us by Biocare. Although we are not able to verify it's authenticity, it does more or less coincide with the products typically recommended by nutritionists, as opposed to the worthless crap sold by the type companies that just flog any old cheap tat they can get their hands on. However assuming it's accurate, and we think it probably is, the most absorbable forms of magnesium are Magnesium citrate, ascorbate, EAP2, and Malate, all of which we can provide here. Magnesium citrate is the best seller for us, probably because of the competitive price point, and we get good feedback on it.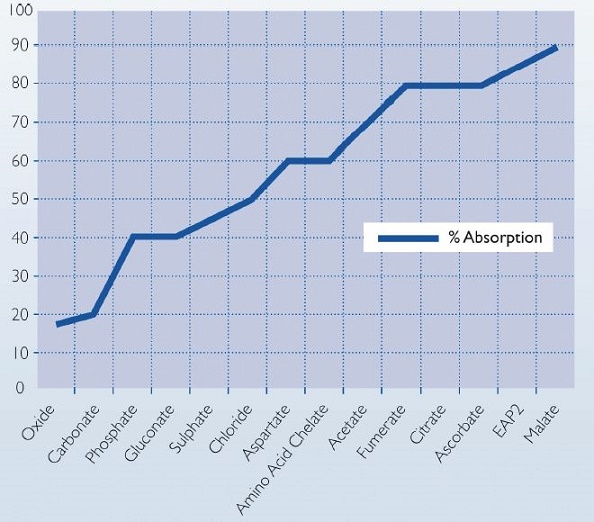 Magnesium Citrate, Magnesium Malate
One heaped scoop (approx 1.5g) daily with food or as professionally directed.
If you are under medical supervision, please consult a doctor before use
This product should not be used as a substitute for a varied and balanced diet and healthy lifestyle.
Do not exceed the stated recommended daily intake.
Do not purchase if the seal is broken.
Keep out of reach of children.