Please note, indivdual results vary. No specific results can ever be guaranteed.
"We spent four and a half years of extensive research to make a bioavailable form of NADH. We got worldwide patents for it. We need to tell you that there are number of fake products on the market. They are unstable. They may say they have 10mg, but they usually have 2mg. Some of them do not contain any NADH". Professor Jorg Birkmayer - at a lecture given in 2013.
Our experience and customer feedback has vindicated this: The majority of the NADH products on the market seem to be worthless, and the one we import from Professor Birkmayer's company in Austria is the only one we would trust. If you don't believe us, we would encourage you to buy one of the other brands, then when you realise you have wasted your money and time, come back to us for the proper stuff.
What is NADH?
NADH or N.A.D.H (an abbreviation for nicotinamide adenine dinucleotide hydride), also known as Coenzyme 1 is a very versatile and important nutrient. Professor Jorg (George) Birkmayer is the world expert on the subject, and we obtain it directly from his company. Because of its many applications, it is listed in all of the following categories of the web site.
Adrenal Support
Anti-Ageing
Antioxidants
Energy Boosters
General Health
Heart Health
Immune Health
Memory Maintenance
Mood Support
Sports Performance
Plase note, this is a high strength NADH product. Most NADH products on the market are 5 or 10mg. Not that it really makes any difference, since they don't work anyway.
NADH Rapid Energy is the updated sublingual NADH from Professor George Birkmayer M.D. Professor of Medicine at the University of Vienna, who was the developer of this nutrient. We know that it is very expensive. We wish our own trade price was lower, and we could sell it at a lower price. We have made our views on this very clear to Professor Birkmayer personally. But it is also extraordinary. There are cheaper so-called NADH products on the market, but the problem is that they are not Professor Birkmayer's original product and they simply don't work. This is why we discontinued another brand which we only sold for a few weeks, before we did our homework by contacting Professor Birkmayer ourselves.
It is important to note that any product that does not have the label illustrated here is not the approved Professor George Birkmayer product. There is even one product being sold as 'his' product which he has stated emphatically is not his product, and contains ingredients that are banned in the EU. Buyer beware!
NADH Facts
NADH is the active coenzyme form of vitamin B3.
NADH acts as a reducing agent to donate electrons to the electron transport chain for ATP production.
One molecule of NADH yields three molecules of ATP.
NADH is involved with the production levels of healthy brain hormones
NADH provides energy to the brain, nerves, muscles and the heart
NADH is also the co-factor of more than 1000 enzymes in our bodies
More detailed information
The following information has been kindly provided by Professor George Birkmayer:
The most promising natural substance in our body is NADH,which stands for nicotinamide adenine dinucleotide hydride. NADH is the biological form of hydrogen. It reacts with the oxygen present in every living cell, thus producing energy and water. The more NADH a cell has available, the more energy it can produce, the better it functions and the longer the cell (and the entire organism) lives.

Though NADH is present in our foods, we take in only marginal amounts of it from our daily diet. Most of the NADH is destroyed during the cooking process. The situation would not be greatly improved even if our diet consisted mostly of raw meat and fish, as the NADH present in these foods is degraded within seconds by the acid environment produced by the gastric juices in the stomach.

Is it possible to increase the amount of NADH in the cell by adding NADH from outside? The answer is yes. This suggests that we can increase the energy levels in our cells. Due to this fact, the cells can produce more of all the components essential for life, and thus they will function better and live longer. This is feasible by supplementation with NADH in order to boost the hydrogen taken in by the human body.

The amount of NADH a cell contains depends on the amount of energy it requires. The heart and the brain need the most energy of all our organs, thus these organs benefit the most from an external supply of NADH. All other organs, particularly the lungs, the liver and the kidneys, also get more energy from NADH and function better. Biological hydrogen is the fuel for cellular energy production and nutritional supplementation can provide our body with more NADH.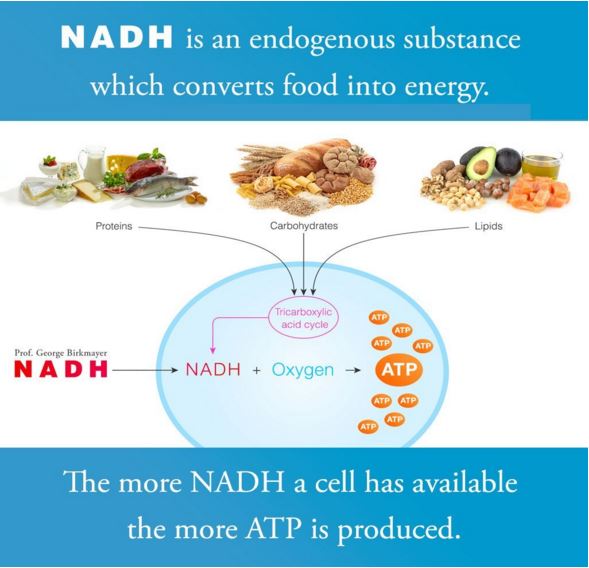 NADH is one of the most potent antioxidants
Dr. Richard Passwater, biochemist and expert on antioxidants in the USA, writes in the foreword of the book NADH—The Energizing Coenzyme (written by Professor George Birkmayer) that: "While there is no such thing as a singularly 'most important' compound in the body, or even a 'most important antioxidant', NADH comes as close as a single compound can. NADH is both the primary coenzyme that drives reduction and oxidation reactions in cellular metabolism and the most powerful antioxidant."
For further information, read any of these books available on Amazon:
NADH: The Biological Hydrogen: The Secret of Our Life Energy by George D. Birkmayer
NADH: The Energizing Coenzyme (Keats Good Health Guides) by George D. Birkmayer
FAQs All about NADH (Freqently Asked Questions) by George D. Birkmayer
Or you can purchase All You Should Know About NADH from us.
Product Information per Daily Intake
NADH (Nicotinamide Adenine Dinucleotide Hydride) 20mg
Ingredients
Isomalt, NADH (Beta Nicotinamide Adenine Dinucleotide Hydride), Lemon aroma, Magnesium stearate
Contains no sugar, starch, caffeine, yeast, dairy, preservatives, artificial colours or flavours
Allergens
Recommended Usage & Intake
Place under the tongue and allow to dissolve.
Do not chew or swallow, as this will stop it from working.
It can be taken at any time of the day.
We find that 1 tablet per day is sufficient for most people who are using it to increase wellbeing, energy and concentration.
People with more serious health challenges may need up to 6 tablets per day - especially in the first month.
Warnings
If you are under medical supervision, please consult a doctor before use
Consult your doctor if considering using during planned pregnancy, pregnancy or breastfeeding
NADH research
The effect of NADH (Coenzyme 1) on the human organism was first discovered by the Austrian scientist Prof. Dr. Dr. Birkmayer. He was the first person who was able to stabilize NADH in tablet form and make it bioavailable to the body. For his NADH formulation, he received more than 50 patents and is internationally recognized as the leading expert in the world on NADH. The effect of his NADH formulation is documented in numerous studies.
Professor George D. Birkmayer (born 1941, Vienna) has a PhD in biochemistry and human medicine and obtained his first degree in cell biology at the University of Munich and subsequently at the University of Graz, where he is Professor of Medicinal Chemistry since 1988. He has authored more than 150 scientific publications and has a strong international profile with visiting professorships at the universitie of Dozenturen Beijing, Xi'an, State, Cornell, and the American College of Nutrition. He is also renowned for worldwide lecturing on his research in neurology and anti-aging medicine.