Botanical product that supports detoxification and normal function of the kidneys.
Ingredients
Organic Horsetail (herb)
Horsetail has been used as an herbal kidney tonic for centuries; believed to encourage normal kidney function.
Organic Uva Ursi (root)
Uva ursi gets its effectiveness from a glycoside known as arbutin. Uva ursi is a well known herbal remedy for urinary and bladder health. It encourages a clean urinary tract and normal urine flow.
Organic Chanca Piedra (herb)
Rich with phytochemicals and biological activity, the Spanish name of the plant literally means "stone breaker." It's been used by South American people to promote kidney health for centuries.
Wildcrafted Hydrangea (root)
Hydrangea is well known in Native America folk medicine as a remedy for kidney stones. With incredible solvent properties, Hydragnea root is thought to dissolve the sharp edges of stones to make them easier to pass.
Organic Goldenrod (herb)
Also popular in Native American medicine, goldenrod is traditionally used to support the urinary system. It tightens and tones urinary tissues and strengthens the kidneys.
Organic Marshmallow (root)
Supports normal fluid balance and soothes the urinary tract.
Fulvic Acid
Natural byproduct of microbial organisms found in soil. Its properties make it beneficial to the detoxification process. Fulvic acid increases cell membrane permeability which makes it easier to remove toxins from the cells.
Other Ingredients
USP Kosher certified vegetable glycerin
More gentle and stable than alcohol, USP Kosher certified vegetable glycerin is the best solvent base for Spagyrex® formulations.
Purified water (pH neutral)
Purified water is one of the best neutral carriers. It's effective, gentle, and, unlike alcohol, appropriate for everyone.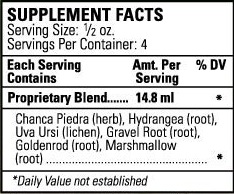 Suggested Initial Use
Start with 1 gallon of distilled water (that's about 4.5 litres, or exactly 8 pints). Pour out 5 ounces (that's about 150ml) if you have one gallon exactly containder. Add the following to the gallon:
1 bottle of Renaltrex™
1 ounce of organic raw apple cider vinegar
The juice of one organic lemon
Shake and refrigerate. Drink an 8-oz (240ml). glass 4 times daily for 4 days on an empty stomach.
Regular Use
Mix 2 full droppers with 4 ounces (120ml) purified water and drink before breakfast 2-3 times weekly.
Warning
Keep out of reach of children. Consult your healthcare provider before taking if pregnant or nursing, or for any additional concerns.