If you suffer from indigestion or heartburn, your instant go-to treatment may well be antacids. Fair enough, you wouldn't be alone; millions regularly use them (after all, half the population of the United States alone suffers from indigestion1), but the trouble is, they might well not be treating what's actually your digestive issues – in fact, they may well just make things worse in the long-term. This is because the likes of indigestion and heartburn are often caused by low levels of stomach acid (hydrochloric acid or 'HCl') and antacid treatment for its symptoms tends to neutralise its presence further, thus making things worse.
But why is stomach – or gastric – acid so important; what is it about HCl's presence in the digestive system that makes it so critical to the good running of this part of the body and, thus, the wider body at large? Well, being a potent digestive agent, HCl plays a crucial role in the breaking down of proteins into their constituent parts (amino acids and nutrients), as well as stimulating the pancreas and small intestine to generate the bile and digestive enzymes needed to break down food ingredients further (into proteins, fats and carbohydrates) and killing the pathogenic bacteria and the yeast in food that can cause illness and disease.
Low stomach acid problems
So much for what gastric acid actually does, but what happens if your levels of it are too low? More specifically than indigestion or heartburn, what happens? Well, not only could it bring on digestive problems, it could also significantly lower your level of immunity. And throw into the mix too the fact that, as people age they tend to consume more processed food, making for a poor, non-nutritious diet and, thus, reducing stomach acid and the fact that we all produce less of HCl as we get older, and you've a recipe for trouble.
As has been noted already, the body won't digest enough nutrients without sufficient stomach acid and, as part of that, the body will become protein-malnourished and digest protein improperly. This will inevitably result in the blood becoming acidic, owing to mineral deficiency and, naturally, the body will seek minerals from anywhere and everywhere else to balance the blood and turn it more alkaline. Indeed, among the parts of the body from which minerals will be taken (where, of course, they're much needed already) will even be the likes of bones; potentially causing – or contributing to – osteoporosis.
And, as you may have guessed, this means a feedback loop will begin – low stomach acid ensures the body's not getting enough minerals, which results in acidic blood, in turn resulting in the scouring of the rest of the body for necessary minerals, which among other harmful problems lowers stomach acid further. And, unfortunately, once this state of affairs has established itself it's likely to ensure a rise in the body's cortisol levels (related to stress), affecting not just temperament and behaviour, but also likely raising blood sugar levels. Additionally, the adrenal glands may become depleted (adrenal fatigue), causing the suppression of the hormone dehydroepiandrosterone (DHEA), which could bring on premature aging.
Low stomach acid symptoms
So, what if you are suffering from low stomach acid – how might you know? Well, the following symptoms could all – certainly a combination of many of them – be tell-tale signs1, 2:
Acne
Adrenal fatigue
Autoimmune diseases
Bloating, belching, and flatulence rapidly following eating
Candida (chronic)
Chronic fatigue
Constipation and/ or diarrhoea
Cracked nails
Deficiency of iron
Food allergies
Heartburn
Indigestion
Potential hair loss (women)
Rectal itching
Increasing stomach acid
As you may have expected, the best way to increase your digestive system's stomach acid is to improve your diet. First up, it's imperative to reduce or try and eliminate entirely mineral-depleting sugar and sweeteners from what you eat on a daily basis. One of the ways in which you might try to do this is to replace much of the table sugar (or sucrose) you consume with the entirely naturally-occurring sweetener stevia. Second, you might want to add fermented foods and drinks to what you eat – the likes of raw, cultured vegetables, which don't just taste fantastic but also are packed with vitamins, minerals and probiotics, and young coconut kefir, a fermented drink that can be made at home with the right ingredients.
Hopefully, in improving your diet, your digestion should begin improving and indigestion and heartburn should decrease, while your overall energy should increase; however, if you have long-standing digestive problems, it's important to be aware it might take longer than you'd initially hoped for your health to improve. Patience and commitment to healthier eating – and a healthier lifestyle – then is paramount.
Stomach acid supplements
That said, you may find you're able to boost your stomach acid levels via organic, natural supplementation – in addition to making the sort of sensible, positive changes to your diet as outlined above. For instance, the following appropriate supplements are available through us at The Finchley Clinic: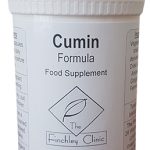 Cumin Formula (HCl-Rejuve) – appropriate for vegans, these vegetarian capsule shells contain (in addition to HCl), aniseed, cumin, ginger, cayenne, fennel, caraway and hops.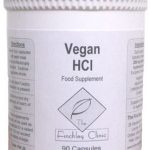 Vegan HCl – can be consumed in conjunction with Cumin Formula, this supplement may aid protein-digestion and reduce food sensitivities, bloating and gas and improve food absorption.
References
Saltzman J. R., Kemp J. A., Golner B. B., Pedrosa M. C., Dallal G. E. and Russell R. M. 'Effect of hypochlorhydria due to omeprazole treatment or atrophic gastritis on protein bound vitamin B12 absorption'. J Amer Coll Nutr. 1994 Dec; 13 (6): 13:584-591.
Kennedy R. 'Hypochlorhydria.' Doctor's Medical Library. http://www.medical-library.net/hypochlorhydria.html.